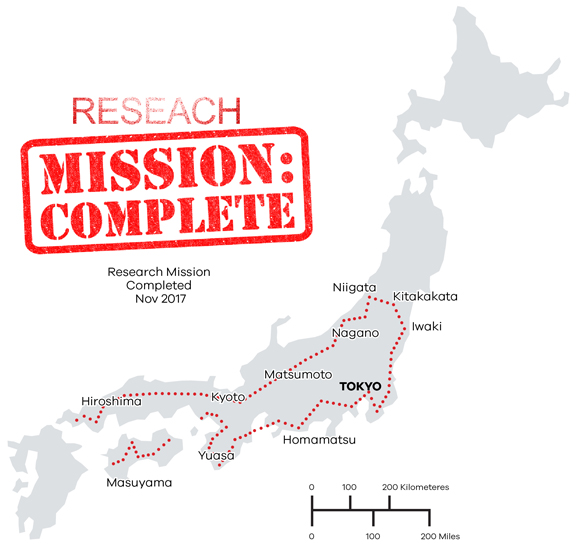 STOP PRESS!
Tim is leaving Betsy at home this autumn for a whistle stop tour of Japan,
visiting locations and food & drink producers nationwide. November 2017.
The road trip is a recce to search out and meet with interested prefecture leaders, artisan producers and other parties. Paving the way towards a successful and powerful project in 2018.
Mission

Seasoned Food Cyclists Tim & Betsy are on another caper, this time to invite Japan to dinner. Cycling the length of Japan the tweed crusaders will visit master food producers, chefs and home cooks learning about the fabulous produce they create everyday and in return inviting them to try British food at it's quintessential best.

Movable Feast

The Great British Food Cycle is causing a food revolution. We are creating a new listening for great british food and it's producers, globally.
Our particular focus on our maiden voyage is to introduce the Japanese people to the joy of quintessentially British quality fare, in a unique and inventive way.
The Movable Feast is a travelling British food event. A series of mouthwatering feasts, with an invitation for guests to open their minds to a fresh new food experience. To blow away diner's preconceptions and old thinking.
Guests will be chosen predominantly from the world of media and national communication, and our intention is to enrol them in sharing their experiences with their readers, viewers & listeners. Opening up a conversation for editorial articles, shows, recipe ideas that lead to increased demand for british produce and export opportunities.
The dining experience will be enhanced by sumptuous support materials which compliment the spectacular food served. We give greater depth and tell the fascinating story of great british food producers.

Japanese food

A second part of our mission is that of discovery and exploration. To uncover and introduce the British public to the incredible diversity of delicate and unique Japanese food.